Kitchen Footprints, Layouts and Design
There are 5 essential different kitchen footprints and which design will best suit your house will be determined by the available space. They include the following kitchen layouts:
L-SHAPE WITH ISLAND – This design not only provides for the greatest functionality, it also looks the most balanced. With the L-Shape design, access to the kitchen is easier. There is an entry point and also an exit, the work spaces are not on top of each other so for a busy family this is invaluable. If one workspace is occupied by one person cooking, somebody accessing the fridge will not interfere with this process.
U –SHAPE – A very familiar footprint as most kitchens up until the last few years were designed this way. The setback with this design is the room between benches and the larger distance to travel from one workspace to the other. Also there is only one entry point.  With kitchen renovations today, quite regularly, a wall is removed so as to provide for a L-Shape kitchen design.
G- SHAPE – This is where the work space is continued beyond the U – Shape creating a Breakfast Bar. This design maybe necessary if your bench space is limited
U – SHAPE WITH ISLAND – If the footprint of the kitchen is large enough, there may be room to have cabinetry on 3 sides of the kitchen and have ample enough room to place an island in the middle of the room. Remember you need a minimum of a 1 metre space around the island to allow for efficient flow.
GALLEY STYLE – This is a popular choice for small kitchen footprints like in an apartment. The kitchen footprint includes some back cabinetry where the fridge, pantry, oven and cooktop are situated and most likely the sink and dishwasher would be located in the island.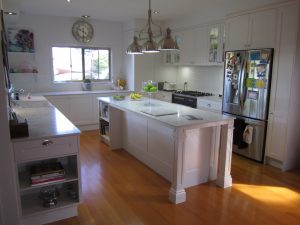 U – SHAPE WITH ISLAND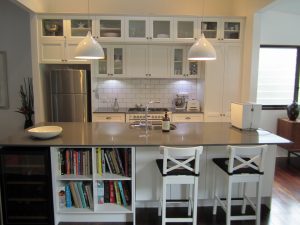 GALLEY STYLE